Save Money and Stress by Advance Planning Your Catholic Burial at All Saints Cemetery in Newtown, PA
Being buried at All Saints Cemetery means you are selecting a final resting place reflecting the beliefs and values from your own personal journey through life. And Advance Planning your burial is an effortless way to ensure that all decisions and financial needs are handled now - instead of during your family's time of grief. This means less stress and fewer costs.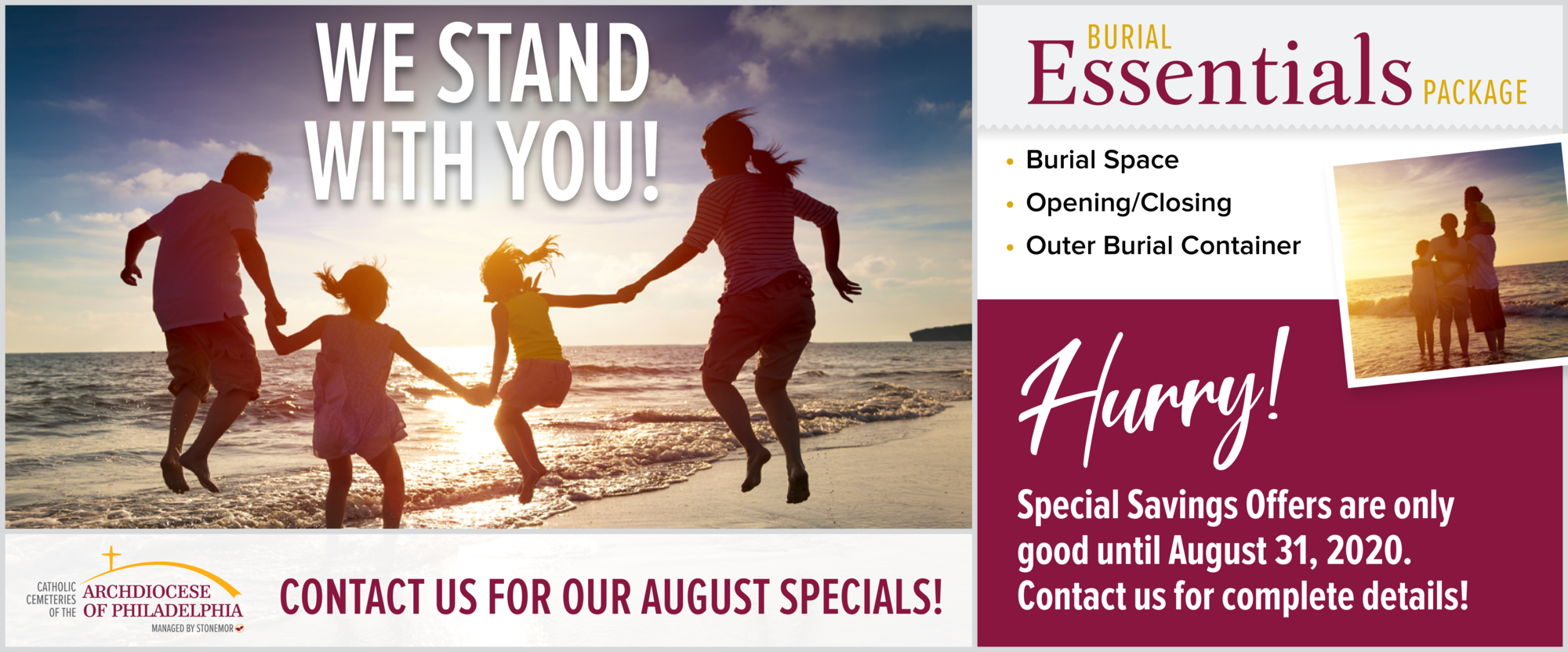 Order a Free Kit to Learn All About Advance Planning.

Complete the form on the right and receive an advanced planning guide by email in minutes with details on how to secure your space and all Catholic burial needs.
The Free Guide Includes:
Information on advance planning
Useful tips and advice
Important details
Blessed are they who mourn, for they will be comforted. Matthew 5: 4
Get A Free No Obligation Advance Planning Guide
{"All Saints Cemetery":{"id":"303","guid":"abe9bf32-91fd-e511-80ce-0050568e2e39"},"All Souls Cemetery":{"id":"304","guid":"b3e9bf32-91fd-e511-80ce-0050568e2e39"},"Calvary Cemetery":{"id":"663","guid":"bbe9bf32-91fd-e511-80ce-0050568e2e39"},"Cathedral Cemetery":{"id":"306","guid":"c3e9bf32-91fd-e511-80ce-0050568e2e39"},"Holy Cross Cemetery":{"id":"307","guid":"cbe9bf32-91fd-e511-80ce-0050568e2e39"},"Holy Sepulchre Cemetery":{"id":"309","guid":"dbe9bf32-91fd-e511-80ce-0050568e2e39"},"Immaculate Heart of Mary Cemetery":{"id":"310","guid":"e3e9bf32-91fd-e511-80ce-0050568e2e39"},"New Cathedral Cemetery":{"id":"311","guid":"ebe9bf32-91fd-e511-80ce-0050568e2e39"},"Resurrection Cemetery":{"id":"312","guid":"f3e9bf32-91fd-e511-80ce-0050568e2e39"},"SS. Peter and Paul Cemetery":{"id":"313","guid":"fbe9bf32-91fd-e511-80ce-0050568e2e39"},"St. John Neumann Cemetery":{"id":"314","guid":"03eabf32-91fd-e511-80ce-0050568e2e39"},"St. Michael Cemetery":{"id":"315","guid":"0beabf32-91fd-e511-80ce-0050568e2e39"}}
All Saints Cemetery
291 Durham Rd
Newtown PA, 18940
Hours of Operation
Mon-Sat: 9:00am - 4:30pm
Sun: 10:00am - 3:00pm