Community Catholic Mausoleums for Above Ground Burials in the Philadelphia Area
Community or Public Catholic Mausoleums
A community mausoleum, or public mausoleum, at a Philadelphia-area Catholic cemetery, is an above-ground structure offering a secure enclosure for multiple individuals. The mausoleums at our Catholic cemeteries remain clean and dry for visitors, with caskets and crypts never coming into contact with the earth. You can find more information below on the components of this type of burial preference.

If, then, we have died with Christ, we believe that we shall also live with him.
Romans 6: 8
God loved the world so much, he gave us his only Son, that all who believe in him might have eternal life.
John 3: 16
Choose a Philadelphia Catholic Cemetery Community Mausoleum if you:
Want loved ones to be able to visit in any weather
Prefer above ground
Appreciate being entombed inside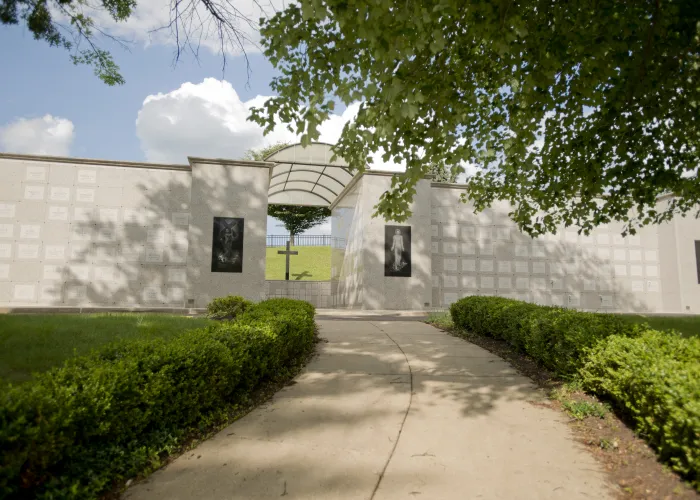 Have You Already Selected Your Space?
Schedule a consultation to speak with a burial planning advisor about securing cemetery products.
Four steps for above-ground burial in a Catholic community mausoleum:
Casket protection is also available with all crypts contained in a private mausoleum. Please contact the specific Archdiocese of Philadelphia cemetery of interest for more information.
If you think you might prefer a public mausoleum at a Catholic Cemetery of the Archdiocese of Philadelphia:
Choose a space location or "crypt." If you've already done this, you can schedule a consultation to discuss purchasing products.
Specify if you want a single or companion (two-person) crypt. You may be interred with a spouse even if he or she is not Catholic.
Identify the location level (most families prefer "eye-level")
Select a "crypt plate." This is a flat memorial made of various bronze and granite materials that is installed in front of the crypt and can be inscribed with specific personal information.
Please note: While a casket and opening-and-closing service are necessary, a vault and memorial are not.