All Souls Cemetery
3215 Manor Rd Coatesville, PA 19320
3215 Manor Rd
Coatesville PA, 19320
Phone Number
Hours of Operation
Mon-Fri: 9:00am - 4:30pm
Sat: 9:00am - 2:00pm
Sun: By Appointment
Brokers
CMS West Inc., Broker

215-826-4401
Plan Your Burial at All Souls Cemetery Now to Save Money and Stress
All Souls Cemetery is a Catholic cemetery in Coatesville, PA. People who choose All Souls Cemetery as their final resting place do so because of its beautiful grounds and its respectful adherence to Catholic beliefs and values. But did you know that Advance Planning at All Souls Cemetery lets you plan your burial now, enabling you to save money on years or even decades of inflation, and helping your family to avoid added stress while they grieve.
Get a Free Advanced Planning Kit Instantly.
Simply complete the form on the right and you will be emailed an advance planning kit from All Souls Cemetery in Coatesville. By choosing your preferred memorial details now, you get to tell your life story your way.
I am the living bread from heaven, says the Lord; whoever eats this bread will live for ever

. - John 6:51a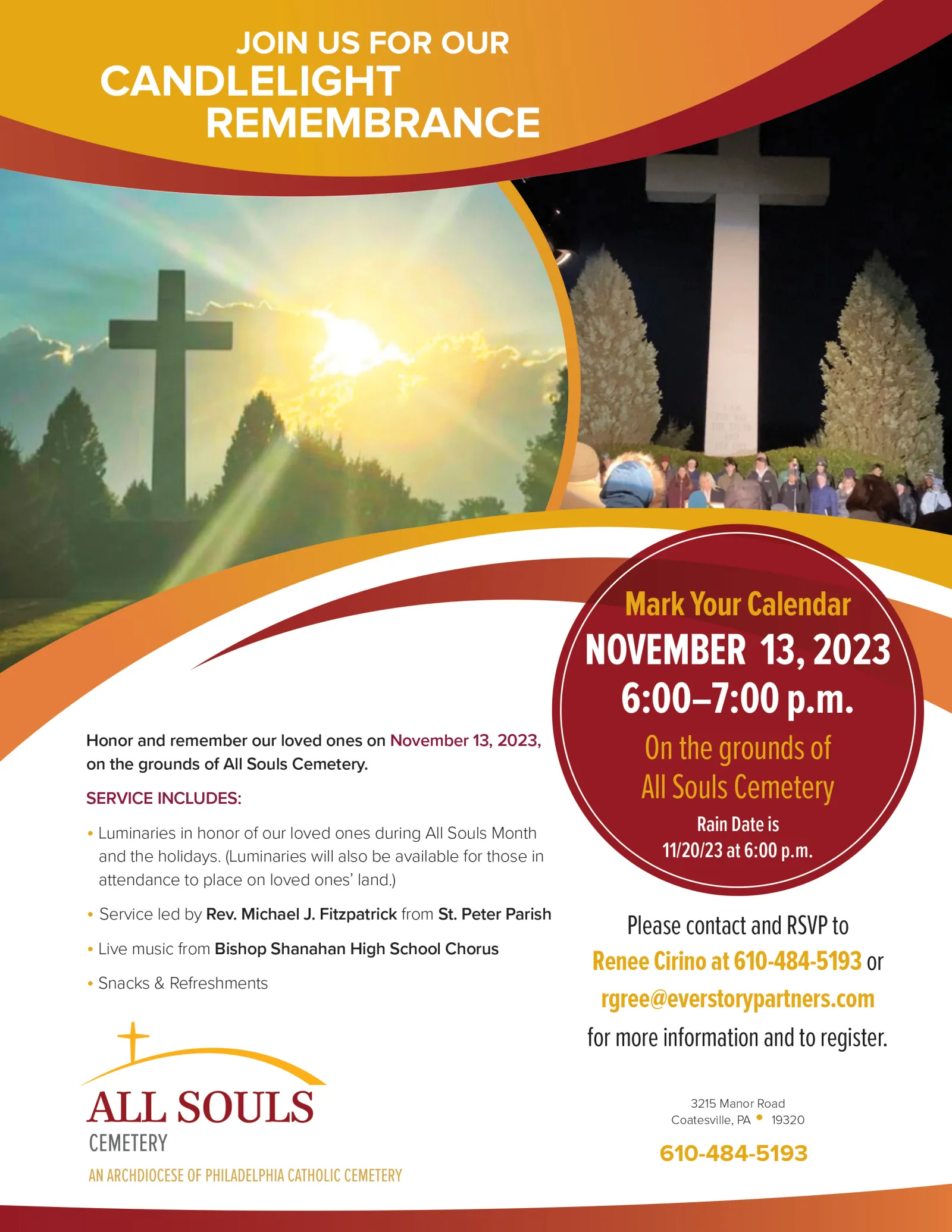 Get A Free, No Obligation Burial Information Guide sent right to your email that includes:
•Burial options•Tips and advice•Why to plan now•Securing Peace of Mind•How to get started


A Gift To Your Loved Ones
Planning ahead helps protect against the unexpected
Did you know you can pre-plan your celebration of life for funeral and burial arrangements?
Life is filled with precious moments, and planning for your end-of-life wishes is an act of love and consideration for those you cherish the most. Take control of your future and ensure your wishes are honored with our pre-planning services.

Right now, there's no better time to Advance Plan and save on your final arrangements. Call or stop in today for complete details. Don't miss this opportunity to put your Advance Plans in place for how you would like your life's best moments to be memorialized.
Call 800-228-2713 or simply stop in today for complete details.