Plan Your Burial at All Souls Cemetery Now to Save Money and Stress
All Souls Cemetery is a Catholic churchyard and cemetery in Coatesville, PA. People who choose All Souls Cemetery as their final resting place do so because of its beautiful grounds and its respectful adherence to Catholic beliefs and values. But did you know that Advance Planning at All Souls Cemetery lets you plan your burial now, enabling you to save money on years or even decades of inflation, and helping your family to avoid added stress while they grieve.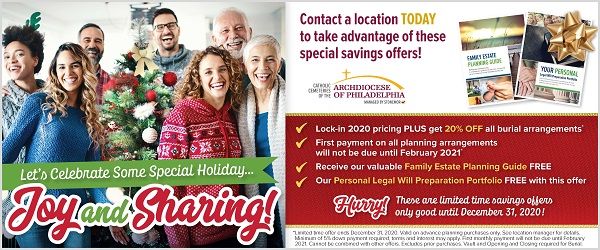 Get a Free Advanced Planning Kit Instantly.
Simply complete the form on the right and you will be emailed an advance planning kit from All Souls Cemetery in Coatesville. By choosing your preferred memorial details now, you get to tell your life story your way.
I am the living bread from heaven, says the Lord; whoever eats this bread will live for ever

. - John 6:51a
Get A Free, No Obligation Burial Information Guide sent right to your email that includes:
•Burial options•Tips and advice•Why to plan now•Securing Peace of Mind•How to get started


{"All Saints Cemetery":{"id":"303","guid":"abe9bf32-91fd-e511-80ce-0050568e2e39"},"All Souls Cemetery":{"id":"304","guid":"b3e9bf32-91fd-e511-80ce-0050568e2e39"},"Calvary Cemetery":{"id":"305","guid":"bbe9bf32-91fd-e511-80ce-0050568e2e39"},"Cathedral Cemetery":{"id":"306","guid":"c3e9bf32-91fd-e511-80ce-0050568e2e39"},"Holy Cross Cemetery":{"id":"307","guid":"cbe9bf32-91fd-e511-80ce-0050568e2e39"},"Holy Sepulchre Cemetery":{"id":"309","guid":"dbe9bf32-91fd-e511-80ce-0050568e2e39"},"Immaculate Heart of Mary Cemetery":{"id":"310","guid":"e3e9bf32-91fd-e511-80ce-0050568e2e39"},"New Cathedral Cemetery":{"id":"311","guid":"ebe9bf32-91fd-e511-80ce-0050568e2e39"},"Resurrection Cemetery":{"id":"312","guid":"f3e9bf32-91fd-e511-80ce-0050568e2e39"},"SS. Peter and Paul Cemetery":{"id":"313","guid":"fbe9bf32-91fd-e511-80ce-0050568e2e39"},"St. John Neumann Cemetery":{"id":"314","guid":"03eabf32-91fd-e511-80ce-0050568e2e39"},"St. Michael Cemetery":{"id":"315","guid":"0beabf32-91fd-e511-80ce-0050568e2e39"}}