Catholic Cemeteries of the Archdiocese of Philadelphia
The Catholic Cemeteries of the Archdiocese of Philadelphia serve an important role in the life of the Church — a powerful witness to the core Christian belief:
Jesus Christ is the resurrection and the life.
Whoever believes in him will never die.
John 11:25-26
Request a FREE Catholic Burial Advance Planning Kit
You've realized that advance planning your burial is a smart financial investment. Now you want information on Philadelphia-area Catholic cemetery plot locations, what the order process is like, and more. Our free burial planning guide can help. Simply fill out the form on the right and all the information you need will arrive within minutes to your email.
Did you know there are as many as 67 things that need to be taken care of when someone passes? Our Catholic Cemeteries in Philadelphia and the surrounding suburbs offer advance planning options to save money and stress.
Find security and peace-of-mind via advance planned burial arrangements:
Eliminate difficult decisions on a difficult day

Lessen bereavement's impact

Prevent emotionally-driven overspending

Guarantee your preferences

Avoid inflation by locking in today's prices
Get A Free, No Obligation Burial Information Guide sent right to your email that includes:
•Burial options•Tips and advice•Why to plan now•Securing Peace of Mind•How to get started


Select a Cemetery
All Saints Cemetery
All Souls Cemetery
Calvary Cemetery
Cathedral Cemetery
Holy Cross Cemetery
Holy Sepulchre Cemetery
Immaculate Heart of Mary Cemetery
New Cathedral Cemetery
Resurrection Cemetery
SS. Peter and Paul Cemetery
St. John Neumann Cemetery
St. Michael Cemetery
Undecided
Did You Know?

You can pre-plan your funeral and burial arrangements?

Don't miss this opportunity to put your Advance Plans in place for how you would like your life's best moments to be memorialized. For the month of June, get either 10% off or 36 months interest-free financing on advance-planning purchases.
Call or stop in today for complete details and to receive your complimentary Family Estate Planning Guide.
Twelve Catholic Cemeteries in the Greater Philadelphia Area
From Conshohocken to Coatesville to Bensalem, the Archdiocese of Philadelphia has a beautiful and peaceful Catholic cemetery convenient to your location.

The 12 convenient Philadelphia-area Catholic Cemeteries are:
Sacred burial grounds - A living sign of the Easter Mystery...a source of grace...a gift of hope. Places that create an environment conducive to prayer, reflection, and remembrance.

But I will call this to mind as my reason to have hope: The favors of the Lord are not exhausted, his mercies are not spent; they are renewed each morning, so great is his faithfulness!
If, then, we have died with Christ, we believe that we shall also live with him.
Romans 6: 8
Why Start Now?
You can plan and pay for your catholic burial in advance
Advance planning your burial is a lot more common than you might think. Rather than wait until the time of passing -- or shortly before -- you can take care of your own arrangements ahead of time. This will spare you and your loved ones a lot of emotional and financial stress, offering peace of mind that everything is already taken care of.
Plan everything ahead of time, from the type of burial you would prefer all the way down to the location and marker or monument.
Click here to read some helpful articles about catholic funerals.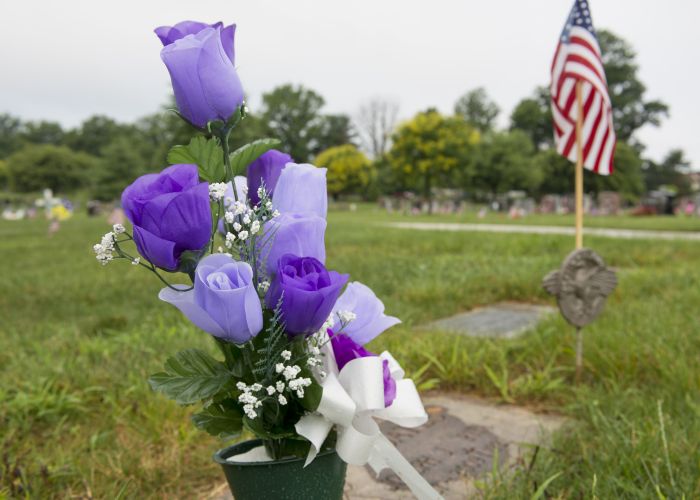 All Faiths Can Be Memorialized in Our Cemeteries
Did you know people of all faiths can be interred with their Catholic family members in a Philadelphia Archdiocese cemetery?
Click here to learn more.
There Are Plenty of Locations to Select From
Catholic Cemeteries of the Archdiocese of Philadelphia are not located just in the city. We also have locations in Bucks, Delaware, Montgomery and Chester County.
There Are Many Types of Burial Options
Choosing one of our catholic cemeteries provides you with a variety of options when deciding on your end-of-life planning. Among those choices includes the type of burial you would like.
In addition to the more traditional and popular in-ground burial, our Philadelphia Catholic Cemeteries offer above-ground options as well. Cremation and an accompanying burial of those remains is also an option.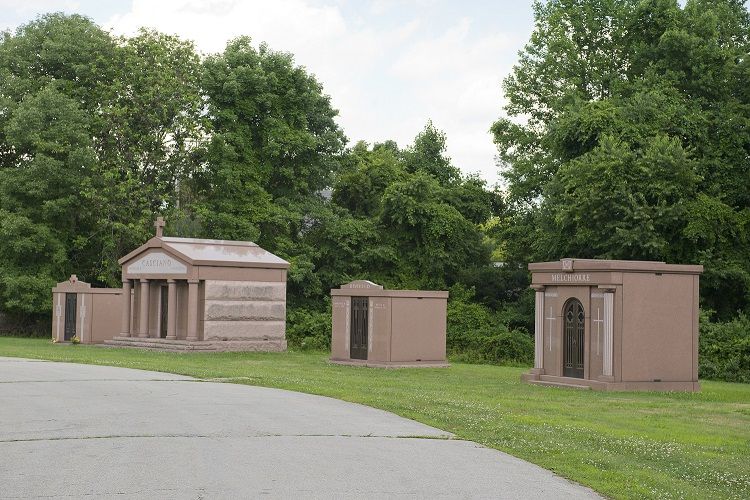 Burial Products and Services
In addition to selecting your preferred cemetery and location within those grounds, there are more than a few items you will also need to complete your end-of-life planning. Much like selecting your burial plot, most of these can be paid for in advance.
Burial Plot
Open-and-Closing
Casket
Vault
Markers
Monuments
Urns
Floral Tributes