Private, Catholic Family Mausoleums in the Philadelphia Area

Private Family Mausoleums
Private family mausoleums allow Philadelphia-area family members to be buried together in a private, secure structure. Of all the burial options available from the Catholic cemeteries of the Archdiocese of Philadelphia, these beautiful stone enclosures provide the greatest amount of privacy, personalization, and prestige. With the ability to add stone columns, stained glass ceilings, and other decorative touches, you can turn a personal mausoleum at one of our Catholic cemeteries into your own family mausoleum, where loved ones can come to pray for and honor those who have departed.

If, then, we have died with Christ, we believe that we shall also live with him.
Romans 6: 8
Come to me, all you who labor and are burdened, and I will give you rest.
Matthew 11: 28
Catholic family mausoleums are the right choice for you if you:
Want your loved ones to be able to visit frequently in a personal, comfortable setting
Want complete privacy
Want to keep your entire family together
Want to ensure your family will always be in-doors and aboveground in a completely dry environment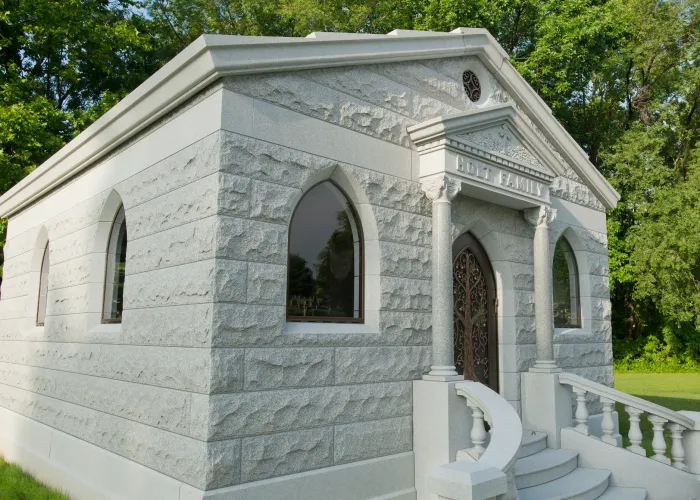 Have You Already Selected Your Space?
Schedule a consultation to speak with a burial planning advisor about securing cemetery products.
Elements of a private Catholic mausoleum:
Casket protection is also available with all crypts contained in a private mausoleum. Please contact the specific Archdiocese of Philadelphia cemetery for more information.
*Private Mausoleums are not offered at the following locations: Cathedral Cemetery, Immaculate Heart of Mary Cemetery, New Cathedral Cemetery, and St. Michael Cemetery.
A Casket to contain the body of the deceased, for either traditional burial or cremation within the parameters of your faith.
Please note that vaults and memorials are not necessary in a private mausoleum, but memorials can be added if preferred.
If you think the best burial option for your family is a private Catholic mausoleum in the Philadelphia area, you can get it taken care of now at today's prices by requesting a free, no-obligation advance planning guide.