Casket Vaults Available for Catholic Burial
When making your burial plans, take note that burial vaults are required for any Catholic cemetery service.
Why pre-purchase your burial vault from the Archdiocese of Philadelphia?
There are three types of Catholic burial vaults available at our cemeteries. They differ in terms of style, cost, and level of protection. By making your selection now, you can be sure to select the vault you would most prefer. You can also lock in today's prices, so your family doesn't have to pay higher costs at the time of their grief.
If you want to learn more about the various Catholic burial vaults options available, and how you can pre-purchase one now, schedule a consultation with one of our advisors.
Get A Free, No Obligation Burial Information Guide sent right to your email that includes:
•Burial options•Tips and advice•Why to plan now


Select a Cemetery
All Saints Cemetery
All Souls Cemetery
Calvary Cemetery
Cathedral Cemetery
Holy Cross Cemetery
Holy Sepulchre Cemetery
Immaculate Heart of Mary Cemetery
New Cathedral Cemetery
Resurrection Cemetery
SS. Peter and Paul Cemetery
St. John Neumann Cemetery
St. Michael Cemetery
Undecided
What is a burial vault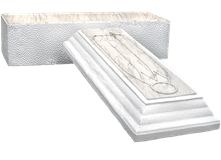 Vaults are concrete containers at a grave site that serve as protective enclosure for a casket. When you've seen a casket get lowered into a burial space, it's actually being lowered into the vault. Cemeteries of the Archdiocese of Philadelphia require the purchase of casket vaults.
Once you purchase a vault, you have the option of installing it right away before time of need or having it stored by the cemetery. The vault can be stored at the cemetery, a warehouse or another location selected by the seller.
In addition, the amount charged to install will not differ whether you have the vault installed at time of purchase or stored for later. Full details about installation or storage of vaults prior to need is available at the cemetery and will be supplied to you at time of purchase.

Have You Already Selected Your Space?
Schedule a consultation to speak with a burial planning advisor about securing cemetery products.