Catholic Burial Monuments
Catholic Burial Monuments for Sale in Philadelphia
Catholic burial monuments are timeless tributes to those who have died or gone before us. They are the upright headstones and memorials you see at gravesites with inscriptions that identify and honor the deceased. The burial monuments for sale in these Philadelphia-area cemeteries are made of granite.
As for me, I know that my Redeemer lives.
Job 19: 25a
Blessed are they who mourn, for they will be comforted.
Matthew 5: 4
Why would you want a burial monument?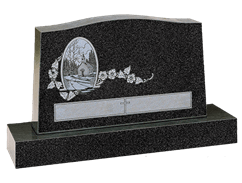 A tombstone burial monument is the image perhaps most associated with a cemetery. It is a highly customizable marker serving as a tribute to the life of the deceased. Options for personalization include size, shape, and inscription. Common inscriptions include the deceased's name, date of birth and death, and loving identifications such as father, daughter, sibling, and friend. Burial monuments can be further personalized to allow the deceased to honor his or her religious faith with religious images, quotes, or lines of Scripture. Catholic burial monuments can be in the form of crosses, angels, or
other religious symbols
.
Have You Already Selected Your Space?
Schedule a consultation to speak with a burial planning advisor about securing cemetery products.
Why advance plan the purchase of a cemetery burial monument?
Because of the customization options available with burial monuments sold by our Philadelphia cemeteries, it's recommended that for those who already know where they want to be buried, to arrange their memorial option now, to ensure that it is the exact size and shape they want, with the precise inscription they wish to have engraved.

The additional benefit of purchasing a Catholic burial memorial now is that you can lock in today's lower cost and avoid inflation.
Free, No-Obligation Burial Information Guide
If you'd like to learn more about choosing a Catholic monument for your burial, or advance planning your arrangements in general, request a free, no-obligation guide now.