Rules and Regulations for Catholic Cemeteries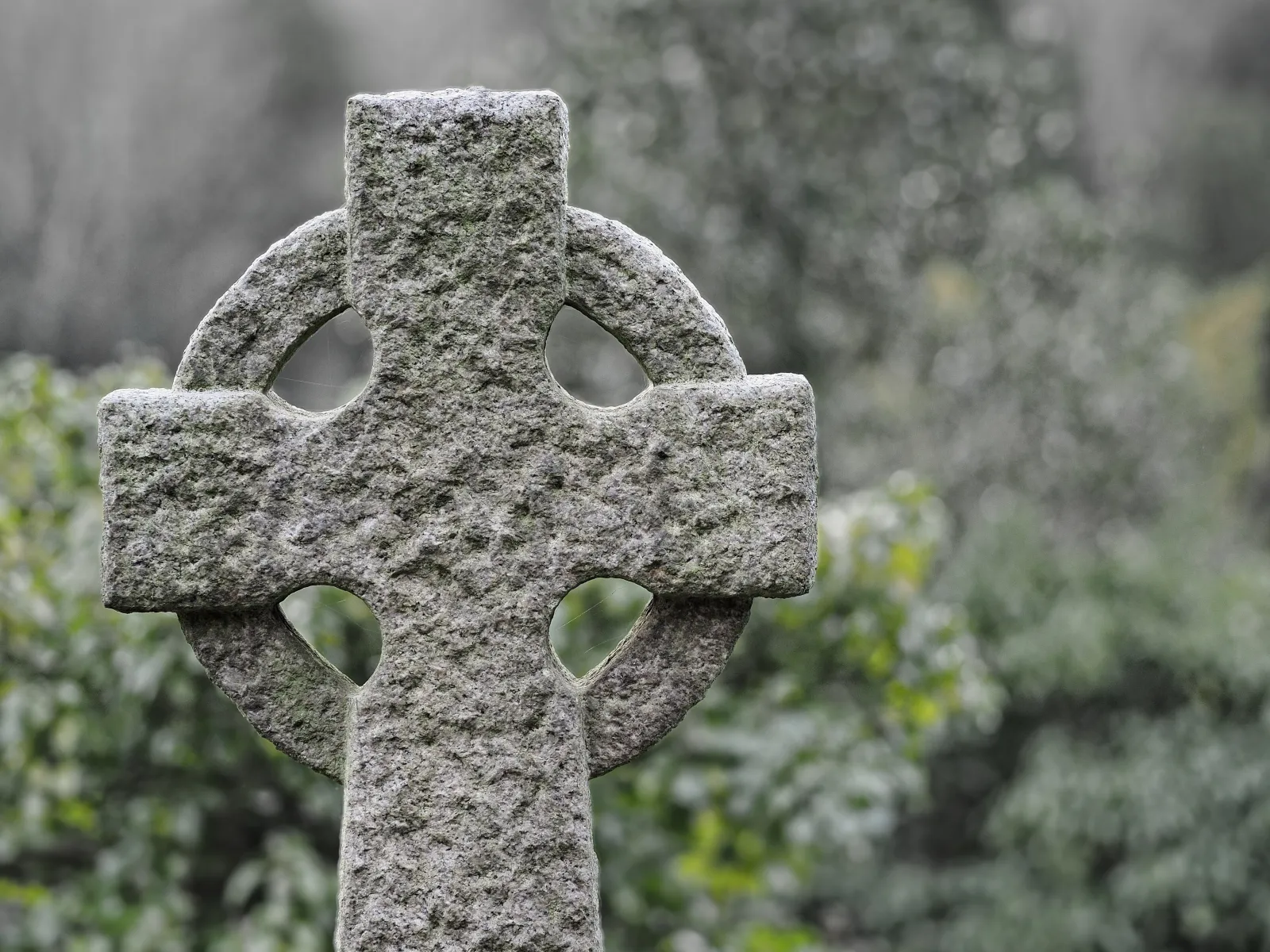 Image Source: pxhere
As places where we lay our faithful to their eternal rest, Catholic cemeteries are sacred, holy places designed to commemorate both the dead and provide comfort to the living. This is no small feat, as a typical Catholic cemetery is often maintained meticulously by its particular diocese, resulting in beautiful landscaping and well-cared-for headstones, mausoleums and columbariums.
Of course, Catholic cemeteries also have rules and regulations that need to be followed in order to create a welcoming environment for visitors and a dignified resting place for those who pass on. While each location has slightly different rules, there are a number of Catholic cemetery rules that are present, in one form or another, at just about every cemetery out there. Let's go over a few of the most common.
Rules for Hours of Attendance
Catholic cemeteries, much like those of any other denomination, are often open seven days a week, exclusively during daylight hours unless otherwise posted. However, the cemetery offices may only be open during business hours, typically Monday through Friday and often by appointment on Saturday. As these are Catholic cemeteries, it's unlikely to find cemetery offices open on Sundays.
Rules for Cars and Parking
Most cemeteries will have modest parking lots near their offices. Additionally, all but the smallest Catholic cemeteries that are easily walkable feature paved, two-lane roads so that mourners and visitors can drive up and park on the side of the road when visiting without having to walk for several minutes to reach their destination. Vehicles are required to move slowly, often at 20 miles per hour or less, and are not permitted to park on the grass unless they are transporting remains.
Rules for Scattering Ashes
In the Catholic faith, it's permitted to cremate the remains of the deceased prior to their final disposition. However, Catholicism does not permit the scattering of these cremated remains. Instead, Catholic cemetery rules and regulations state that the remains must be kept together, either buried in the ground in an appropriately-sized burial vault, or placed in an urn in a columbarium, which is similar to a mausoleum but reserved specifically for urns.
As a result, the scattering of remains is not permitted at Catholic cemeteries that follow these rules to the letter. However, there are other, non-Catholic cemeteries that may permit you to scatter remains in designated scattering gardens reserved specifically for this purpose.
While You're Here - Did You Know?

One of the greatest gifts we can leave our loved ones is to remove the stress of planning a funeral for us.
Advanced planning allows you to select the details of your own funeral — from the type of burial to the inscription on your headstone — decades in advance. This benefits everyone by:

Allowing you to tell your life story your way

Saving years of inflation-related cost increases

Sparing your family the stress of having to choose what you would have wanted and determining how to pay for it.

Learn more about the gift of advance planning now.
Rules for Decorating Graves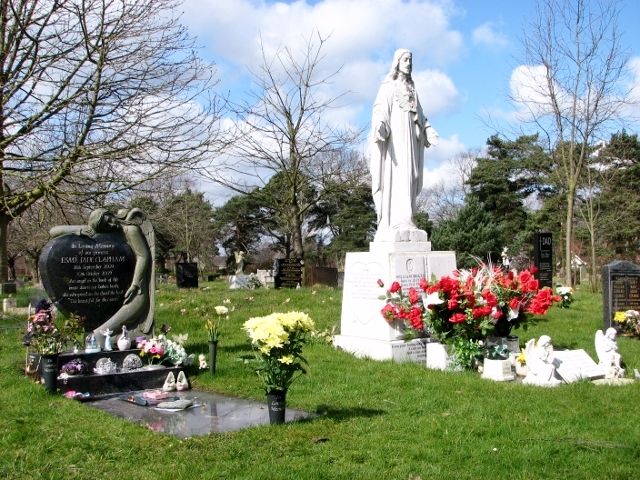 Image Source: Geograph.org.uk
As it's common practice to bring decorations to graves and leave them behind while visiting, Catholic cemetery rules for decorating graves are often needed. Most cemeteries prefer that non-permanent decorations be used, and many will limit decorations to only flowers during the warmer times of the year and wreaths during the Christmas season. Additionally, it's common practice to place small American flags on the graves of veterans for Memorial Day, with volunteer organizations usually responsible for both planting and retrieving them.
Rules for Carrying Firearms
As sacred spaces of peace, most Catholic cemeteries are not places where firearms are appropriate. As they are considered private property, state and federal rules that permit the carrying of firearms usually don't apply. However, there are some cases where there may be firearms permitted in a Catholic cemetery, such as when carried by a military honor guard for the purposes of the burial of a U.S. military veteran with honors. Most cemeteries will require a commanding officer to be present at all times whenever there are firearms being carried.
Cleaning Rules and Schedules
Most cemeteries will conduct routine grounds maintenance throughout the year, especially during the growing season, to keep the grass cut and to ensure other landscaping, such as ornamental bushes and flower beds, are kept in good condition. General cleaning of the entire cemetery usually happens twice a year with the changing of the seasons from warmer to colder weather and then the reverse. Many cemeteries will dispose of any decorations left on graves at this time, and it's typically the plot owner's responsibility to retrieve any decorations they wish to preserve prior to these general cleanings.
General Rules Regarding Conduct While Visiting
Visitors to a cemetery are routinely required to be quiet and respectful at all times while within the cemetery. As these places are exclusively for mourning and commemoration, an air of quiet dignity is to be expected at all times. Speaking loudly, playing music that's not associated with a funeral or burial, running, or touching headstones, grave markers, mausoleums, or columbariums is never allowed regardless of what Catholic cemetery you're visiting.
Rules Regarding Visiting with Children or Pets
Catholic cemetery rules usually discourage any minors from being present without a parent or guardian. These adults are responsible for the minor's actions while on cemetery property. Meanwhile, rules for allowing visitors to bring pets with them can vary wildly. Some cemeteries prefer that you not bring pets, while others will permit it as long as they stay leashed at all times. It's a foregone conclusion that you are expected to clean up your pet in order to preserve the sanctity of the cemetery and to keep it beautiful. If there's ever any question about whether pets are permitted, always check at the cemetery office before bringing your pet; the last thing you want is to be asked to leave while visiting a loved one.
Understanding Catholic Cemetery Rules and Regulations
There are no two Catholic cemeteries that are exactly the same when it comes to the types of rules and regulations it asks their visitors to follow. Yet the above rules, while general, are common enough that you can expect to be required to follow them whenever you visit a cemetery. In fact, many of these rules are universal no matter what type of cemetery it is you're visiting. Above all else, it's always important to be respectful while visiting a cemetery. As always, if you ever have any doubts as to what is or isn't permitted at a cemetery you plan to visit, find out first. Call or visit the cemetery office, ask what the relevant rules are, and be sure to follow those rules.
You can find details about the Archdiocese of Philadelphia cemeteries here.