The funeral of a loved one is all about commemorating their life and recognizing their passing. This goes double in the Roman Catholic faith, as while a Catholic funeral is for mourning the loss of your loved one, it's also a celebration of that individual ascending to their eternal reward.
This makes choosing songs for a Catholic funeral Mass an important part of the planning process. You want to respect the wishes of the deceased and honor their faith in appropriate ways. Choosing Catholic funeral songs that accomplish these goals should be on your mind. Here's what you should know about the best choices for Catholic funeral songs and what makes them a good choice.
A Focus on Elegance and Dignity
Songs for a Catholic funeral Mass need to be chosen with care, as it's a dignified ceremony that should be filled with elegance and reverence for both the deceased and their faith. Therefore, you will need to choose songs carefully that meet these requirements. However, when it comes to the types of music you should be considering, there are, thankfully, many choices.
The majority of these songs are usually stately, low-tempo hymns that have a long tradition of being performed or played during Catholic funerals. You don't have to choose a hymn, but many churches require those song choices have appropriate lyrics that are liturgical or sacred in nature. This is why some of the songs commonly associated with Catholic funerals might not be permitted to be sung or performed during Mass (more on that below).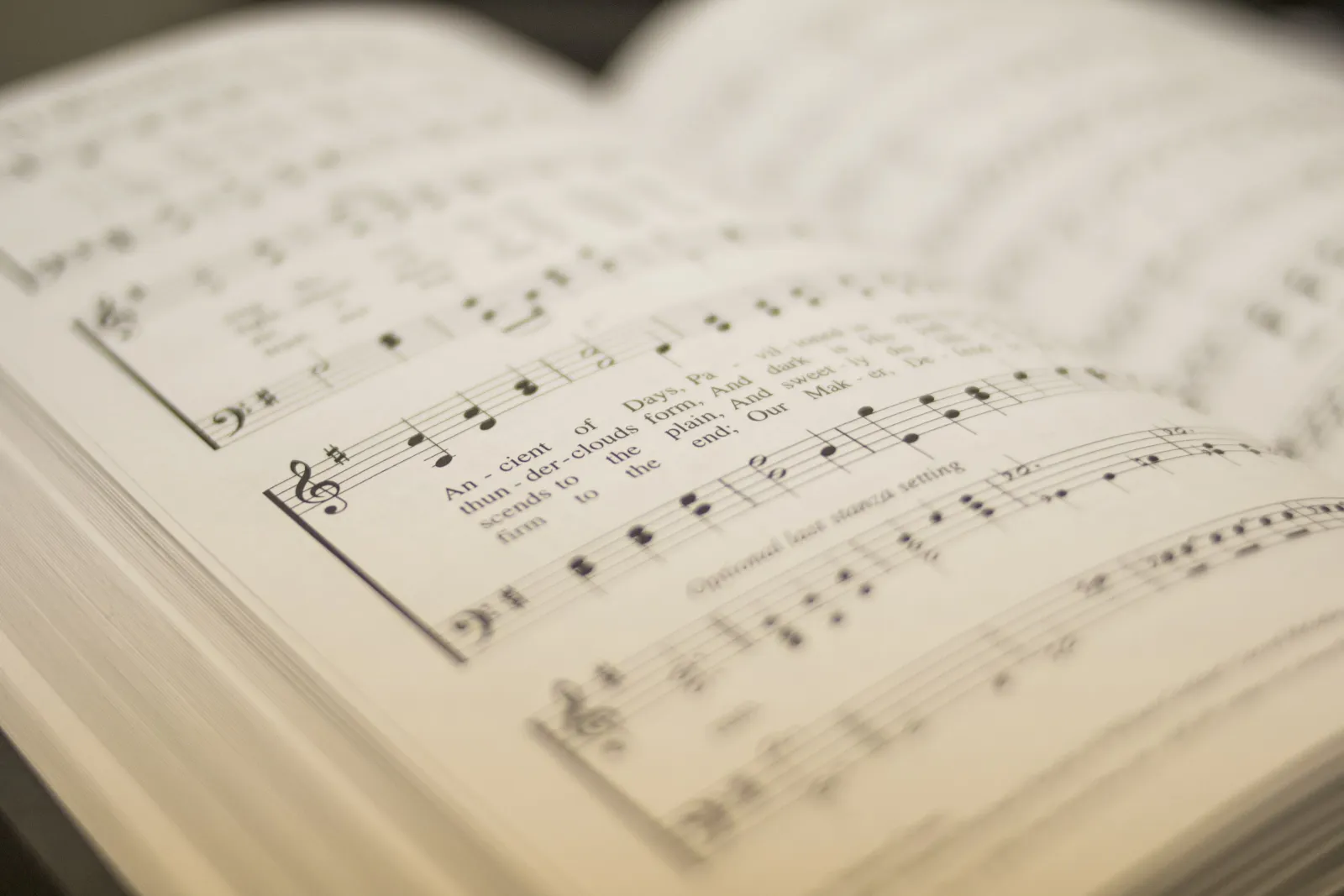 An Incomplete List of Songs for Catholic Funerals
Below we've gathered a handful of some of the songs and hymns you've most likely encountered if you've ever attended a Catholic funeral. This is not meant to be a complete list, but merely a good starting point. Additionally, as the funeral Mass is a public act of Catholic worship, songs that are permitted to be played during services must be approved by the church beforehand.
Keep in mind that this doesn't mean a personal song choice can't be in a Catholic funeral, especially if it holds deep meaning for the deceased or their loved ones. If something is deemed inappropriate by the church, this song can be played during the wake or visitation at a location that isn't on church grounds, such as a funeral home. This provides more control over what you choose to play, and it's why we've added some "non-traditional" songs to our list.
Amazing Grace
Let's get this out of the way first: Amazing Grace is one of the most popular songs that you'll hear played at funerals in America, especially Catholic funerals. You've likely heard it yourself played either during the entrance at the beginning of a funeral or at the processional at the end, but there are no hard and fast rules for when it can appear.
Danny Boy
Another classic choice for a funeral song, especially among the Irish Catholic population, is Danny Boy. While it's not an official funeral song or hymn, this mournful melody is part of North American cultural identity - especially if you live in the Greater Philadelphia area, thanks to its high proportion of Irish-American Catholics. Be forewarned, though - some churches have banned it from being played in the past, so get clearance beforehand.
Ave Maria
The Roman Catholic faith is steeped in ritual and elegance, and Ave Maria is emblematic of that thanks to it being sung in Latin. It's customary to have this hymn sung or played during the offertory, better known as the Holy Eucharist, during a Catholic funeral Mass. This song would never be an inappropriate choice, as it is quite literally the Hail Mary prayer in Latin.
Be Not Afraid
If you're looking for a more contemporary hymn to play during a funeral, Be Not Afraid is a common choice. Often referred to by its subtitle of Come Follow Me, this hymn was written in the 1970s by a Jesuit priest originally inspired by the emotional upheaval that accompanied a new priest facing ordination. However, the hymn also has a strong reputation for comforting the bereaved, making it a thoughtful choice if you're looking for a Catholic funeral song for your mom or other deceased loved one.
May the Road Rise to Meet You
Another of the most popular Irish Catholic funeral songs, May the Road Rise Up to Meet You is an ancient song that has been sung in Ireland for generations and may even predate the advent of Christianity on the Emerald Isle. This traditional Celtic farewell song is ideal for bidding goodbye to a loved one, with the powerful message of "until we meet again," a strong commitment to the tenets of the Catholic faith. If you don't hear Danny Boy at an Irish Catholic funeral in Philly, this song may likely be heard instead.
Here I Am, Lord
Another contemporary hymn written by a Jesuit, Here I Am, Lord is based on passages from both Isaiah 6:8 and 1 Samuel 3:4. Not quite as somber as other Catholic funeral songs, Here I Am, Lord is instead more hopeful and uplifting, as if the deceased is shedding their mortal shell and joining God in Heaven. This makes it a particularly good choice for either the entrance or the processional.
My Way
While this is obviously not one of the Catholic funeral songs you'll ever hear played during a Mass, this classic Frank Sinatra tune is a perennially popular choice - especially among older generations. If you're looking for Catholic funeral songs for Mom or Dad that underlines their one-of-a-kind nature as an individual and celebrates their life, My Way is a great choice to play at a visitation or a wake that's taking place at a funeral home.
Catholic Funeral Songs - The Choice is Yours
Choosing Catholic funeral songs is an important part of the funeral planning process, but it can often be overwhelming. That's why you should always turn to others for support during this difficult time. Parish priests, funeral directors, and even friends and family can help you choose the right songs for the occasion, so don't be afraid to reach out.
While You're Here - Did You Know?

You can spare your own l loved ones grief by planning your funeral in advance -- by years or even decades.
Advanced planning allows you to select the details of your own funeral — from the type of burial to the inscription on your headstone — decades in advance. This benefits everyone by:

Allowing you to tell your life story your way

Saving years of inflation-related cost increases

Sparing your family the stress of having to choose what you would have wanted and determining how to pay for it.

Learn more about the gift of advance planning now.